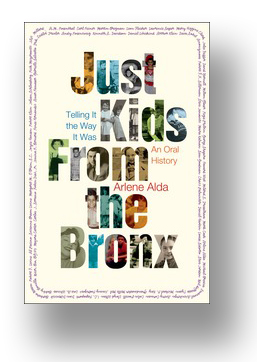 (Henry Holt and Co., 2015)
Publication date
March 3, 2015
Available for pre-order now, Click Here
National
(check local listings for time
and channels)

Monday, March 2, 2015
NBC "Today" with Kathie Lee and Hoda
~Alan Alda will join the interview with Arlene~

Thursday, March 12, 2015
MSNBC "Morning Joe"
6:00-9:00 AM (Segment time TBA)
Hosts: Joe Scarborough, Mika Brzezinski
~Alan Alda will join Arlene for this interview~
Thursday, March 12, 2015
AOL "Mondays with Marlo" (WEB)
10:45 AM Interview                           Host: Marlo Thomas
To listen live click here.

Saturday and Sunday, March 14 and 15, 2015
Bloomberg Radio "A Closer Look"
Interview Host: Arthur Levitt
To listen to this interview, click here.
~Alan Alda will join Arlene for this interview~
Thursday, April 2, 2015
"Marilu Henner Show"
1:15 PM  (Live Radio)
Host: Marilu Henner
Listen live at this website:
http://www.marilushow.com/



Local (New York ~ Washington DC)
Monday, March 2, 2015
Bronx Museum of the Arts
6:30 PM- Spring Gala & Auction: Celebrating Education At The Bronx Museum: 10 Years Of Teen Council
~Arlene is one of the Honorees~
For more information about this event, or purchase tickets, click here.
Wednesday, March 4, 2015
WNYC (NPR) "The Leonard Lopate Show"
NYC Radio show
Interview Airs at 12:00 PM-12:20 PM
~Alan Alda will join Arlene for this interview~
Listen to interview here, click here.

Sunday, March 8, 2015
WSHU "Join the Conversation"
2:00 PM
Live audience at:
Pequot Library
720 Pequot Avenue
Southport, CT 06890
Arlene will give a talk, read excerpts from her book, Q & A, and have a book signing
Audio recording will be available on wshu.org at a future date.
Monday, March 9, 2015
92nd Street Y
1395 Lexington Ave.
New York, NY 10128
7:30 PM
Conversation with Arlene, Alan Alda, Regis Philbin, and Tats Cru
(Regis and Tats Cru are both featured in Just Kids From the Bronx)
Wednesday, March 11, 2015
Gala Fundraiser-
Eight Over 80: Celebrating Eight Extraordinary Lives
6:30 PM Cocktail Reception
7:30 PM Event
Mandarin Oriental New York
80 Columbus Circle at 60th Street
New York, New York 
For more information or to purchase tickets, click here
Sponsored by Jewish Home Lifecare
Thursday, March 12, 2015
Hunter College Reading and Reception
6:30 PM
47-49 East 65th St.
New York, NY
Sunday, March 15, 2015
Pix11 "News Close-Up"
Host: Marvin Scott
Monday, March 16, 2015
Greenlight Bookstore @ St Joseph's College
7:30 PM
245 Clinton Ave
Brooklyn, NY 11205
Moderated by Alan Alda, with contributor Maira Kalman, followed by book signing
Tuesday, March 17, 2015
WABC "Joan Hamburg"
10:00 AM (Live Radio Show)
77 WABC Radio
Wednesday, March 18, 2015
Jacob Burns Film Center
7:30 PM- Screening of A Bronx Tale
9:30 PM- Alan Alda will Interview Arlene and Chazz Palminteri
(Chazz is one of the people featured in Just Kids From the Bronx)
Book Signing
364 Manville Road
Pleasantville, NY 10570
Saturday, March 21, 2015
WFUV (NPR) "CityScape"
7:30 AM, 90.7 FM
Saturday and Sunday, March 21
and 22, 2015
NY1 "New York Times Close Up"
4:15 PM
Interview Host: Sam Roberts
Monday, March 30, 2015
BronxNet "Bronx Talk"
9:00 PM   Host: Gary Axelbank
Lehman College (Live TV)
To live stream this show, click here
Saturday, April 4, 2015
Bronx Museum of the Arts "Back to the Bronx"
12:00 PM – 1:30 PM             
1040 Grand Concourse, 2nd Floor North Wing
Bronx, NY
Thursday, Appril 16, 2015
Barnes & Noble
7:00 PM
2289 Broadway at 82nd Street
New York, NY
~In conversation with Alan Alda
Discussion/ Book signing~

Sunday, May 3, 2015
York BotaniNewcal Garden
3:00 PM – 5:00 PM                
2900 Southern Boulevard
Bronx, NY
Arlene will give a presentation, followed by a book signing
For additional information, click here
~Another person featured in the book will also be there (TBA)~
Sunday, May 31, 2015
First annual Long Island Lit Fest,
For more information, click here
Sands Point Reserve, Castle Gould
127 Middle Neck Road
Port Washington, NY
Arlene will be the leading reader in the 1st session
Sunday, July 26, 2015
Quogue Library
5:00 PM
90 Quogue Street
Quogue, NY
Arlene wll read excerpts from the book, followed by a book signing
Friday, August 14, 2015
Bridgehampton Library
5:00 PM
2478 Main Street   
Bridgehampton, NY
Arlene wll read excerpts from the book, followed by a book signing
---
Saturday, March 14, 2015
Politics and Prose
7:00 PM
5015 Connecticut Ave., N.W.
Washington, D.C. 20008
Talk followed by Q&A and Book signing
Sunday, April 26, 2015
Jewish Council for the Aging
5:30 PM
Bethesda North Marriot
5701 Marinelli Rd.
North Bethesda, MD
JCA will honor Alan and Arlene Alda at the
22nd Annual Productive Aging Award Dinner
For more information, click here

Books sold by Politics and Prose